Retinal Consultants Medical Group Welcomes New Physicians To Practice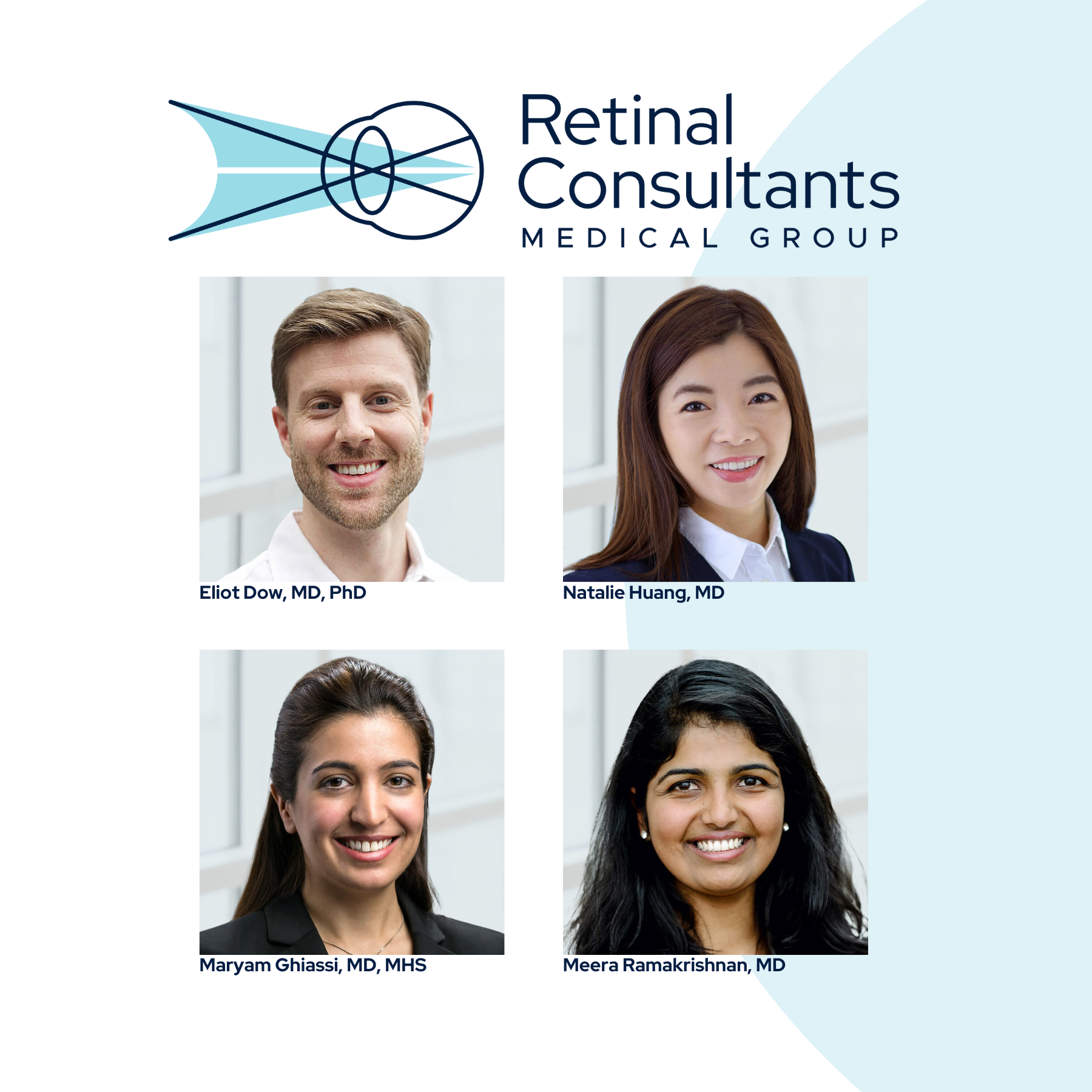 The Retinal Consultants Medical Group (RCMG) family is expanding – we're excited to welcome four new retina specialists to our practice. The addition of these new doctors enables us to continue fulfilling our mission of providing patients throughout Northern California with outstanding retinal care for conditions such as age-related macular degeneration and diabetic retinopathy.
Meet Dr. Eliot Dow, MD, PhD
Dr. Eliot Dow was initially inspired to become a retina specialist because of his loved ones' experiences with retinal diseases. After earning M.D. and Ph.D. degrees, he completed an ophthalmology residency and a fellowship in retinal diseases. During this period, Dr. Dow served as Associate Director of Stanford University's artificial intelligence-based retinal screening program. He has received accolades for his clinical research in sensory neuroscience and artificial intelligence, including the Norton Ophthalmology Prize and the Heed Fellowship.
Meet Dr. Maryam Ghiassi, MD, MHS
Possessing an international upbringing, Dr. Maryam Ghiassi holds a deep appreciation for different cultures and value systems, as evidenced by her patient-centered therapeutic approach. A board-certified ophthalmologist and surgeon, she is an active member of such organizations as the American Academy of Ophthalmology and the American Society of Retina Specialists. Dr. Ghiassi has worked on techniques for differentiating retinal stem cells, co-authoring and publishing peer-reviewed papers, and presenting her findings at national meetings.
Meet Dr. Meera Ramakrishnan, MD
Hailing from the Bay Area, Dr. Meera Ramakrishnan, a board-certified ophthalmologist and surgeon, is dedicated to fighting patients' blindness. An active member of the American Academy of Ophthalmology and the American Society of Retinal Specialists, she is a passionate educator and researcher, having published numerous peer-reviewed scientific papers, reviews, and book chapters. Dr. Ramakrishnan completed her medical internship, ophthalmology residency, and then a vitreoretinal surgical fellowship. During this period, she was honored for her teaching and mentoring efforts of medical students and residents.
Meet Dr. Natalie Huang, MD
A native of China, Dr. Natalie Huang left computer science for a medical career, specifically ophthalmology. A renowned researcher and author, she has had her research work published in many scientific journals and has been honored with the Distinguished Contributor Award by the Journal of VitreoRetinal Diseases. Dr. Huang completed her Doctorate in Medicine, multiple internships, an ophthalmology residency, and a Medical Retina clinical fellowship. During this period, she was honored for her work on end-stage retinitis pigmentosa patients who received artificial retinal implants.
Exceptional Retinal Care in Northern California
Established in 1975, Retinal Consultants Medical Group offers outstanding retinal care in Northern California. Learn more about our retina center or contact us to schedule an appointment.
Tags: