Sacramento - Parkcenter Drive
Conveniently located near the corner of Howe and Fair Oaks, our 3 Parkcenter office is located on the ground floor in Suite 100. We are easily accessible for patients throughout Sacramento, as well as local communities such as Woodland, Fremont, and beyond. The office is equipped to handle all advanced diagnostic testing and in-office retina procedures. Designated patient parking is available near the front of the building, and there is additional open parking in the lots near the surrounding buildings.
RCMG Sacramento Retina Center - Parkcenter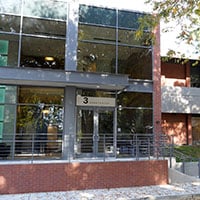 3 Parkcenter Drive
Suite 100
Sacramento, CA 95825
Get Directions
Phone: (916) 454 - 4861
Fax: (916) 454-3603
Hours
Mon - Fri: 8:00 am to 5:00 pm
Retina Specialists at Sacramento - Parkcenter Drive
More About This Location
Our Sacramento Parkcenter Drive office treats many eye diseases such as macular degeneration, retinal vein occlusion, and retinal tears. We also provide comprehensive diabetic eye care, including the treatment of diabetic macular edema and both nonproliferative and proliferative diabetic retinopathy.
Sacramento Parkcenter Drive's in-office retinal procedures include fundus photography, retinal angiography, high resolution spectral domain optical coherence tomography (SD-OCT), ocular ultrasound, retinal laser, and intravitreal injections.
All of our offices can evaluate patients for retinal surgery. In addition, postoperative care is done in our offices. We offer retinal surgery consultations for retinal detachment, macular pucker, macular hole, diabetic retinopathy, vitreous hemorrhage, and vitreomacular traction.