Clinical Trial Spotlight: An Overview of Our Current Clinical Trials for Wet AMD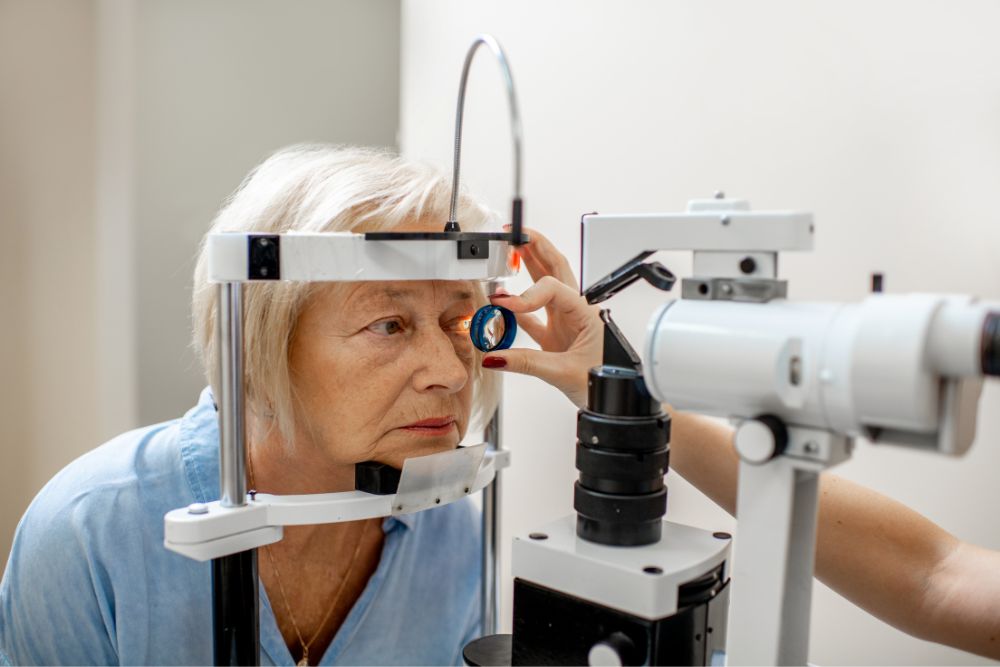 xtFor more than 15 years, Retinal Consultants Medical Group (RCMG), has contributed to the development and utilization of leading medications and treatment modalities for multiple retinal conditions, such as age-related macular degeneration (AMD). These clinical trials have resulted in the development of new and improved diagnostic methods, FDA-approved treatment modalities, and even potential disease cures. We encourage eligible patients to participate, as these studies provide access to the next great generation of retinal treatments.
Explore The Current Wet AMD Clinical Trials At RCMG
A nationally respected clinical research site, much of our research focus is devoted to AMD, the leading cause of irreversible vision impairment, and one of the most common conditions we treat. We're currently conducting and taking part in trials devoted to wet, or neovascular AMD, the more serious, rapid, and aggressive form. Here are our current active wet AMD trials available for enrollment.
Amgen
For this study, the researchers wanted to better understand the efficacy and safety of an investigational drug, ABP 938. This drug is administered as an intravitreal (IVT) injection; this is an injection in the vitreous, the clear, jelly-like gel comprising much of the eye's volume. The purpose was to compare ABP 938 to aflibercept (also called Eylea®), also administered via intravitreal injection.
Atmosphere
In this clinical trial, researchers are evaluating the efficacy and safety of RGX-314, a drug being developed as a one-time surgical treatment for wet AMD. The current standard treatment for wet AMD is anti-VEGF therapies, which prevent the progression of vision loss. But to work effectively, life-long intraocular (within the eye) injections are required, typically repeated every 4-12 weeks, and patients often experience a decline in vision, with reduced frequency of treatment.
Belvedere
This study's purpose is to assess the effects of ranibizumab, a drug that blocks VEGF medications for wet AMD. Specifically, the researchers wanted to review how the drug worked when delivered by a new eye implant, known as the Port Delivery System with ranibizumab, or PDS.
Daylight
This study seeks to determine the safety and efficacy of KSI-301, a wet AMD drug administered via intravitreal injection. KSI-301 was compared to the standard treatment, aflibercept (Eylea®).
Oasis
In this trial, researchers wanted to examine the safety and tolerability of CLS-AX, (axitinib injectable suspension), which is administered as a single-dose suprachoroidal (SC) injection. The suprachoroidal space (SCS) is the area in the back of the eye between the sclera, the white layer, and the choroid, a thin tissue layer filled with blood vessels that deliver oxygen and nutrients to the eye. SC injections allow medications to be delivered to affected chorioretinal tissues while avoiding unaffected tissues.
Sandoz
For this wet AMD clinical trial, conducted over 52 weeks, the purpose is to compare the efficacy, safety, and immunogenicity — cells' or tissues' ability to provoke an immune response — of an investigational drug, SOK583A1, to aflibercept (Eylea®). Both treatments are administered through intravitreal (IVT) injections.
Shore
For this, Phase 3 of a 52-week trial, researchers wanted to determine the effectiveness of two wet AMD treatment options administered through intravitreal (IVT) injections. Specifically, they compared an investigational drug, OPT-302, and the standard of care, Lucentis®, in 4-week and 8-week dosing versus Lucentis alone in 4-week dosing.
Schedule a Consultation To Participate In A Clinical Trial in California
Ongoing research is crucial to retinal care, as it plays a vital role in the development and utilization of diagnostic and treatment modalities. If you'd like to see if you're eligible to participate in a clinical trial, please contact us.